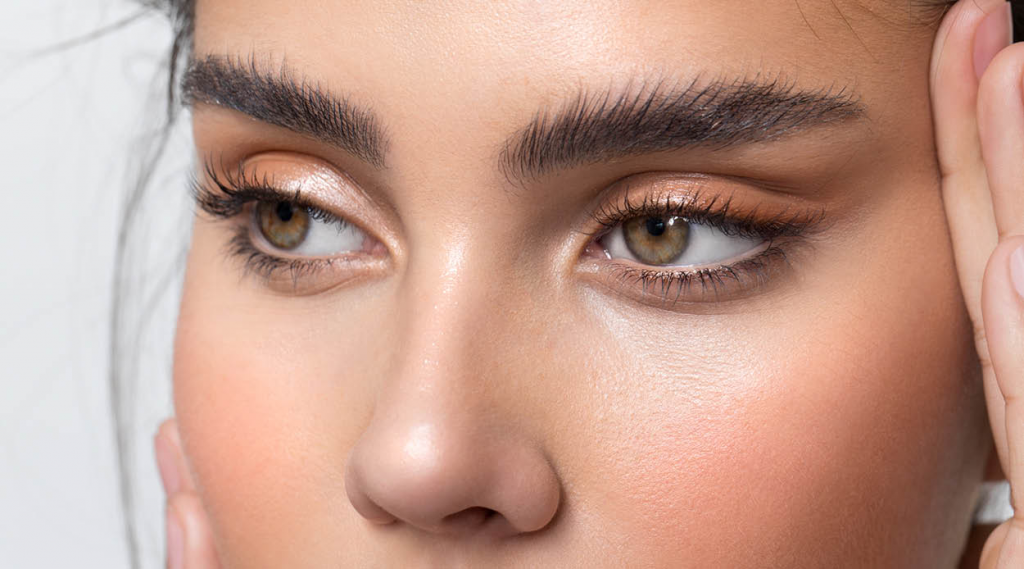 Brow Lamination
What Is Brow Lamination?
As one of the biggest trends to hit the scene this year, brow lamination is the art of defining the eyebrows to redirect the hairs upwards and set them in place.
A way of achieving the fluffy brow look, brow lamination strengthens and thickens the hair to make them appear healthier. It works wonders for thin brows because of its ability to add volume to the area.
Who Is Brow Lamination Ideal For?
Brow Lamination is so versatile and is ideal for anyone. It's great for anyone looking for fuller, thicker-looking brows or has hairs that need constant gelling to keep them in place. If you feel your brows appear too thin or lack volume, lamination enhances them to help reach full potential. It's a great alternative to microblading which is a more invasive brow treatment and only works on specific brow shapes. Brow lamination is for all types, including those that have gaps in between. It's also easily reversed compared to microblading – in case you ever feel like reverting back to your normal brow shape
How Does The Treatment Work?
Our trained therapist at L'Amour will apply clip your brows and apply a fixing glue in order to lift your brow hairs.
A lifting lotion is then applied and the brow hairs are then brushed upwards to achieve a 'pulled look'.
This is then followed by a setting lotion them as straight as possible in a vertical direction.
Next, our therapist applies a neutralizer to set the brows into place so they do not budge.
In order to achieve maximum results, our clients can opt for the brow package which includes a brow lamination alongside brow tint and shape, and a lash lift also. You can find out about all of our eyelash and eyebrow service prices further down.
Please Note: Our L'Amour therapist will only be offering this service on Sundays at the High Wycombe location. A patch test will need to be booked in 48 hours prior to any new eyelash or eyebrow treatment.
Contraindications For Brow Lamination
At L'Amour, we keep our client's safety and well-being at the forefront of everything we do. With that in mind, it's important to know when NOT to receive treatments or procedures as, in certain cases, it may be harmful. If you come under any of the following, please refrain from booking in for Brow Lamination:
Pregnant or breastfeeding
Using blood thinning medication
Sunburn around the area prior to treatment
Cuts , abrasions, or inflammation around the brow area
Use of Roaccutane within the last 12 months
Excessive allergies
Recent filler or anti-wrinkle injections around the treated area
Bleeding disorders
Infectious diseases
Hyper-sensitivity around the brow area
Styes or eye infections
Extra Brow and Lash Services We Provide
As well as offering our sought-after brow lamination treatment, L'Amour has introduced a wide range of cosmetic services, specifically for eyebrows and lashes:
L'Amour Brow Tint and Wax – £15
Our brow tinting service is a gentle way of defining your brows by darkening the hairs. The easy method to save you the time of filling in your eyebrows every day, brow tinting uses semi-permanent dye to lock in a darker colour onto the fibres of your hairs for a natural, fuller look overall. This comes alongside a waxing service to remove unwanted hairs and clean the surrounding area. Like all of our brow and eyelash services, this treatment requires a patch test at least 48 hours prior to avoid skin irritation.
L'Amour Eyelash Lift and Tint – £40
Eyelash lift and tint is the process of boosting each individual eyelash by breaking down the protein in the lashes and moulding them with a gentle eye shield. A keratin-infused serum will be used to restore and condition the eyelashes. Then they will be carefully tinted to achieve thicker, longer and darker looking lashes – so you can avoid the mascara!
L'Amour Lash Lift and Brow Lamination With Tint and Shape – £70
This all-star package includes everything you need for perfect brows and lashes. In this service you get a lash lift, brow lamination with tint, and an eyebrow shape. We recommend going for this service if you're really looking to enhance and define the overall eye area and for maximum results.
Call us today to book and visit our High Wycombe location for any of your brow and lash treatments.